Regina Daniels' ex-boyfriend, Somadina finds love, now dating Ghanaian actress, Akuapem Poloo
Ghanaian actress, Akuapem Poloo has announced that she and Regina Daniels' ex-boyfriend, Somadina, are dating.
The actress was forced to open up on their relationship after a blogger brought it to the limelight.
In response to the article published by the blog, Akuapem Poloo wrote:
This will be the best song you'd listen to today: Kayode – Sideguy – Click Here
"Hello THEINFONG.COM YES @adinmasomadina loves me and I do love him paaa so please allow us okay thanks baby @adinmasomadina my parents are ready for you and your family much love my handsome".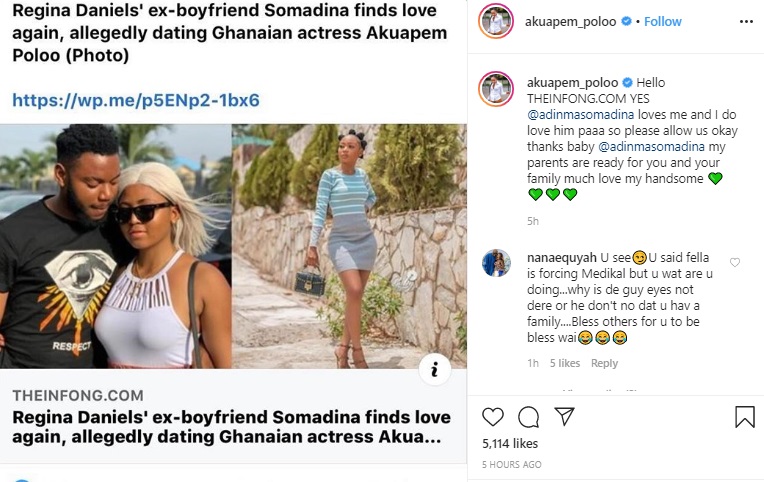 In another post, she shared a picture of Somadina which she captioned: "My love for you is unconditional handsome baby please don't let me down @adinmasomadina".
She also expressed delight at knowing that their kids will look beautiful: >"Imagine how our kids will look like omg my love is tooo cute he is killing me slowly".
To make Advert inquiries or place an order, please contact us at [email protected] or 08073063036 and we'll reply to you with our Ad rates and other necessary information.